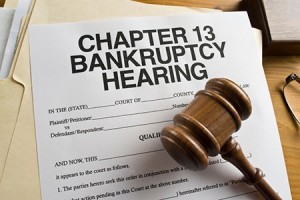 Chapter 13 bankruptcy is commonly known as a "re-payment plan" bankruptcy and is only available to individuals with regular income whose secured debts total less than $1,149,525 and whose non-contingent liquidated unsecured debts are less than $383,175.
In contrast to a Chapter 7 bankruptcy, debtors in a Chapter 13 bankruptcy pay a percentage of their debts back through a 3 to 5 year payment plan.  Any percentage of unsecured debts that are not paid back through the Chapter 13 plan are discharged or eliminated.  The percentage of debts that are paid back through the Chapter 13 payment plan is a multifaceted legal analysis determined by the debtors' income, assets, and debts.
In a Chapter 13 bankruptcy a Trustee is assigned to review your case and represent creditors throughout the Chapter 13 case.  The plan payments are made to the Chapter 13 Trustee who distributes the payments pursuant to the Chapter 13 payment plan.
Although generally regarded as a secondary option compared to Chapter 7, Chapter 13 offers benefits that are not available to debtors in a Chapter 7.  In fact, it is sometimes beneficial to file a Chapter 13 bankruptcy case even when one qualifies for Chapter 7.  Some of the benefits of a Chapter 13 include:
–       Catching up on missed payments on a house or car and avoiding the possibility of foreclosure or repossession;
–       A more expansive discharge order that may discharge debts that are not available to be discharged in a Chapter 7;
–       The ability to pay priority debts, i.e. taxes (which cannot be discharged in a Chapter 7 or Chapter 13), at a lower interest rate than one would outside a bankruptcy;
–       The ability to cram down, strip, or avoid liens on under secured property;
–       The ability to receive a discharge where a discharge may not be available in a Chapter 7 due to a prior filing.
The attorneys at Calone & Harrel Law Group, LLP, can explain all of your options to you and provide extraordinary representation throughout your bankruptcy case.  If you are considering filing bankruptcy you can contact Calone & Harrel Law Group, LLP to schedule a free thirty (30) minute consultation with our bankruptcy attorney to see if a bankruptcy filing would be appropriate in your given factual situation.